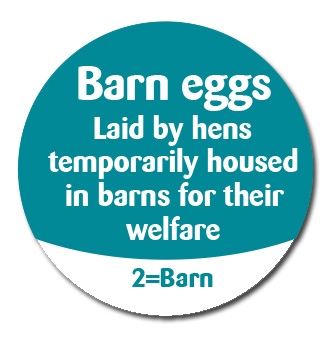 Danro has now prepared temporary Barn Eggs Labels for Free Range Flock egg producers affected by the bird flu precautions implemented by DEFRA.
Under EU regulations, to label eggs as free range, they must be kept under specific minimum conditions including access to the outdoors with vegetation on a daily basis. Birds housed under the special measures introduced by DEFRA in December mean that after 12 weeks it is no longer lawful to label eggs as free range but must now have barn eggs labels indicated.
Whilst we have our own opinion on the intransigence of the EU Commission with respect to re-labelling free range flock's eggs as 'barn eggs' rather than continuing with the explanation labels introduced at the beginning of February, producers must comply.
If you are unable to secure your flock from wild birds; i.e. netting their runs and disinfecting footwear etc. then you must continue to house your flock for the foreseeable future and accept that their eggs must be classed as barn eggs and can no longer be referred to as free range.
If you have been husbanding your flock as a free range flock, you cannot label the eggs as free range due to the housing restrictions conflicting with EU Regulations regarding egg labelling. Any eggs produced may continue to use the free range packaging and labelling you may have but must have an additional label added; in this case "Barn Eggs laid by hens temporarily housed in barns for their welfare"
You can buy these labels directly from us ex. stock by clicking here. You may also buy a TOWA Applicator which will help with bulk application of labels.
Please note: All information provided by Danro is provided as is and without warranty. Danro accept no responsibility for the accuracy of this information. Please see DEFRA's website for exact guidance on the bird flu outbreak and your responsibilities.